Mosaic Exhibit Hall
The Mosaic Exhibit Hall is a continuously changing space creating new experiences for guests and members. With a focus on interpretive exhibits, guests will engage with digital interactives, augmented reality, hands-on activities and, of course, engaging wildlife. The exhibit hall debuted in July 2023 with the MORPH'D gallery.
See Something Life Changing
MORPH'D
Go on a journey of exploration through MORPH'D as you're introduced to a diversity of animals that are perfectly evolved to survive. Featuring 18 curious creatures from around the globe, interactive habitats and seven multi-media experiences, you'll be immersed in the adaptations of some of nature's most remarkable species in MORPH'D.
Signature species in the hall will include paddlefish and the wildly popular, forever-young axolotl (AX-oh-LOT-ul).
Click the link below to learn more about the MORPH'D gallery.
Buy Tickets
The Splash Pad
Experience fantastic fun in our kids' outdoor water play zone!
The zero-depth water area features water dump buckets and spray zones for children 11 years of age and under plus a designated play area for toddlers. To ensure the safety of our guests, please read this important information regarding The Splash Pad Experience:
Children must be directly supervised by parent/guardian at all times while enjoying The Splash Pad.
Foot protection, like specially made aquatic shoes, is highly recommended; especially during the summer months.
TGH Animal Health Care Center
Get a firsthand look at what it takes to provide world-class care to thousands of animals! Visit the Tampa General Hospital Animal Health Care Center to get an up-close view of the unparalleled medical care animals receive from The Florida Aquarium's veterinary staff. Located on the second floor, this state-of-the-art facility partners with Tampa General Hospital to provide the highest level of care to the residents in our community, from the smallest of creatures to the largest.
CIBC Aquatic Lounge
Slow the pace of your visit in the tranquility of the CIBC Aquatic Lounge. This gallery space features a rotating variety of imaginative and educational works of art as well as a variety of small aquatic species.
Currently on display is The Ocean Decade Exhibition, a traveling global art showcase featuring unique and thought-provoking digital works of art emphasizing the importance of our oceans and conservation.
The exhibit experience is free for members and included with general admission.
Restoring Florida's Coral Reefs
By engaging with this new interactive digital display featuring a set of stunning short documentary films, guests will learn more about the third largest barrier reef in the world – Florida's Reef Tract, the Aquarium's ongoing and innovative Coral Conservation and the 100 Yards of Hope Project. Witness the Aquarium's amazing technology and coral spawning via high-definition video and narration from the scientists themselves.
Restoring Florida's Coral Reef debuted amid the excitement of Super Bowl LV with support from NFL Green, the Tampa Super Bowl Host Committee, and FORCE BLUE. Located on our 2nd floor lobby, the exhibit is free for members and included with general admission.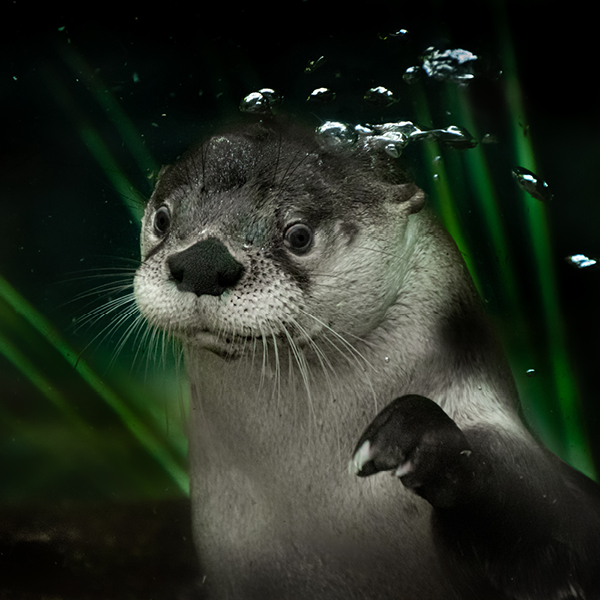 Habitats
Dive into the amazing sights and sounds from tree level to sea level!
Learn More
Experiences
Make the most of your aquarium adventure!
Learn More