Aquarium Habitats
Dive into the amazing sights, sounds and experiences from tree level to sea level at The Florida Aquarium! Explore animal habitats featuring animals from right here in our own backyard to exotic locations throughout the globe. From mysterious sand tiger sharks and playful otters, to tiny seahorses and inquisitive sea turtles, you'll never know what you'll discover when you visit the wide variety of animal species at The Florida Aquarium.
Wetlands of Florida
Birds soar overhead in our iconic 80-foot-tall glass dome, turtles bask in the sun and freshwater fish dart through the water as you wander the Wetlands trail. Enjoy the lush mangrove trees that have grown at the Aquarium since opening in 1995. Lock eyes with an alligator, run alongside the playful river otters and marvel at the beautiful plumage of the roseate spoonbills and white ibises. Explore Florida's freshwater and brackish environments in this immersive experience and gain a new appreciation for the animals that live in Florida!
Animal Spotlight: Roseate Spoonbill
Get to know this gorgeous pink bird native to Florida. The roseate spoonbill, often mistaken for the flamingo, is a large wading bird known for its bright pink feathers and spoon-shaped bill. This species gets its pink color from its diet, which is rich in carotenoid-rich organisms like shrimp. Juvenile spoonbills are lighter pink in color. As they mature their plumage will develop into darker shades of pink.
Fun Fact: This species gets its pink color from its diet, which is rich in carotenoid-rich organisms like shrimp. Juvenile spoonbills are lighter pink in color. As they mature their plumage will develop into darker shades of pink.
Journey to Madagascar
Take a Journey to Madagascar to hang with ring-tailed lemurs, explore a tropical coral reef, gawk at hissing cockroaches and so much more. Enter the world of species native to Madagascar to learn not only interesting facts but also the threats that they face in their native habitats. Get inspired to take action to help create a better life for them in our own backyard.
Animal Spotlight: Tomato Frog
Tomato frogs are native to Madagascar and inhabit forests, marshes and areas near rivers. Male tomato frogs can be identified by their orange and brown coloration, while females have a vibrant red coloration. When the gender of an animal species can be differentiated by color, it is called sexual dimorphism.
Fun Fact: The bright coloration of this species indicates its toxic nature to predators. When threatened, the tomato frog can secrete a toxin that will deter predators.
Shorelines
Get acquainted with animals that make their home under rock pilings and bridges in coastal Florida. Spiny lobsters peer out from their rocky refuge, garden eels poke their heads out of sandy burrows and curious pufferfish flit around below the surface.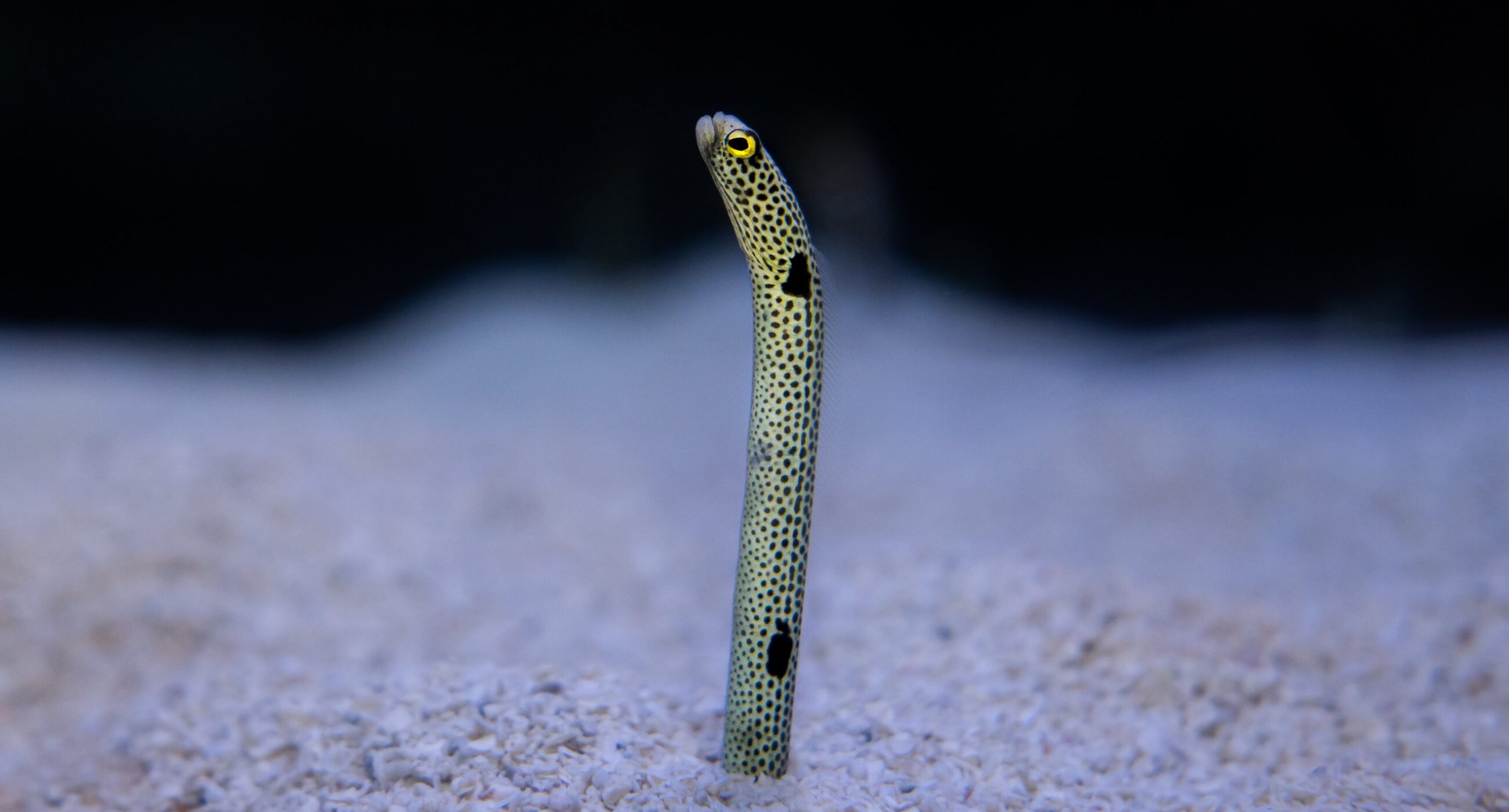 Animal Spotlight: Garden Eel
Garden eels create burrows in sandy bottom habitats to protect themselves from predators. They generally only leave their burrows to get closer to a mate during mating season.
Fun Fact: The genders are sexually dimorphic, which means that males and females can be distinguished by visible traits; in this case the males are much larger than females.
Stingray Beach
Roll up your sleeves for this Aquarium must! Touch the slippery and velvety wing tip of a cownose ray. It's an experience like no other when a stingray slowly glides within your reach. Florida horse conch, blue angelfish, porkfish and doctorfish also reside in Stingray Beach.
Animal Spotlight: Cownose Stingray
Cownose rays are easily identified by their distinctly shaped head and long pointed wings. This species of ray is a foraging predator with their diet largely consisting of invertebrates. They use their mouths to suck in food items and their crushing tooth plates to crack the hard shells of their prey.
Fun Fact: A group of cownose rays is called a fever and this species is known for large schooling migrations.
No Bone Zone
Dip your hands into the No Bone Zone to touch sea stars, anemones, sea cucumbers and more! These Pacific species thrive in icy waters, so brace yourself for this bone chilling touch habitat.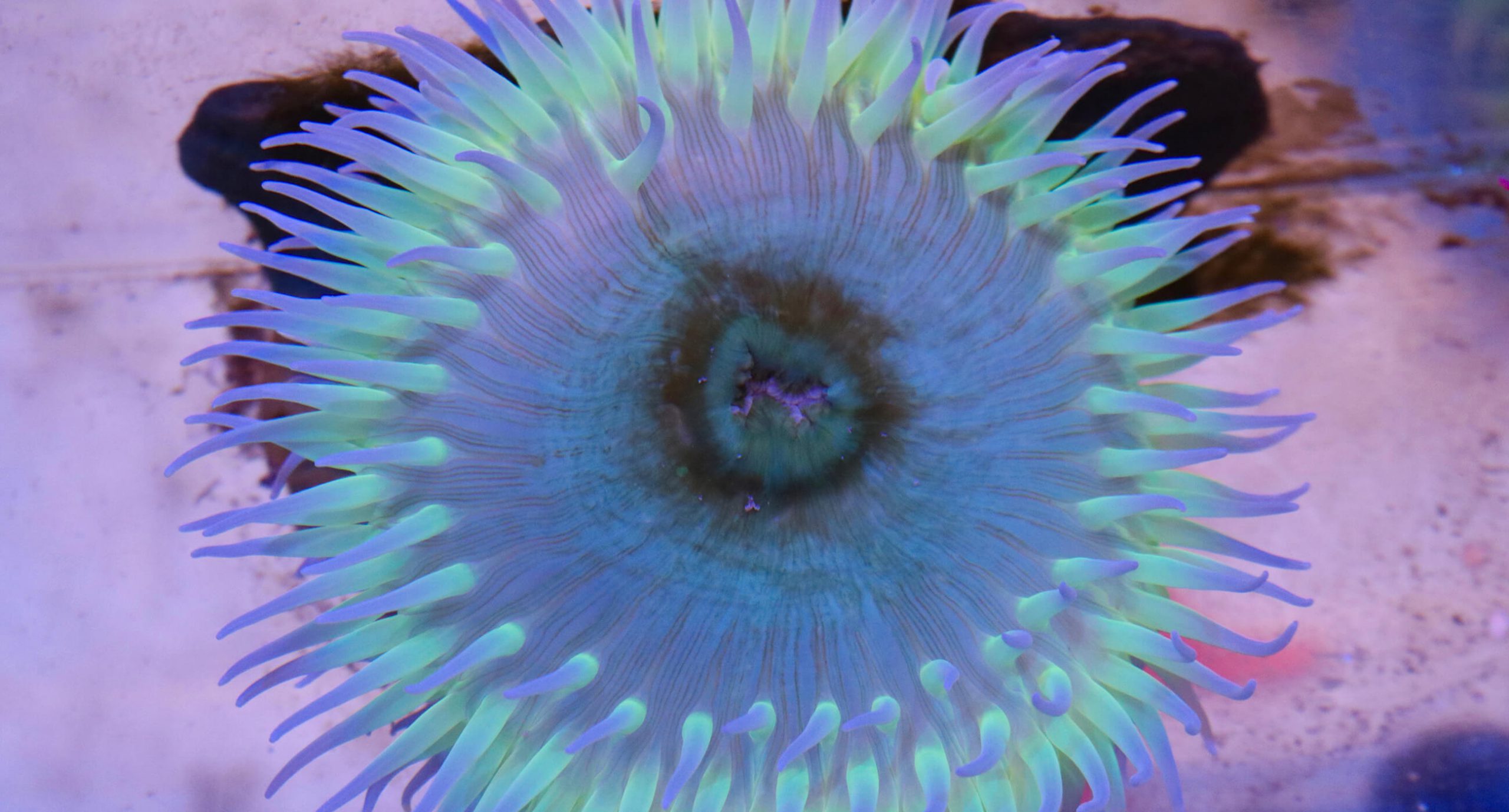 Animal Spotlight: Giant Green Anemone
The giant green anemone may look like an innocent animal, but it actually can consume fish and other small organisms! This anemone gets its bright green color from its symbiotic relationship with microalgae and zooxanthellae, much like a coral does. In fact, anemones are related to corals.
Fun Fact: These animals share characteristics with corals like the presence of stinging cells, radial symmetry and sexual or asexual reproduction.
MORPH'D
From the colorful to the camouflaged, from the slightly slimy to the super smooth, each animal in MORPH'D tells a unique story of survival. You'll learn the shocking truth about electric eels and paddlefish, see through the eyes of a mudskipper or four-eyed fish and discover toxic tales of red cherry shrimp and poison dart frogs. And, so much more! Located in the Aquarium's new Mosaic Exhibit Hall on the 2nd floor, MORPH'D is a highly interactive experience featuring utterly engaging and resilient species with unique adaptations.

High Sensory Area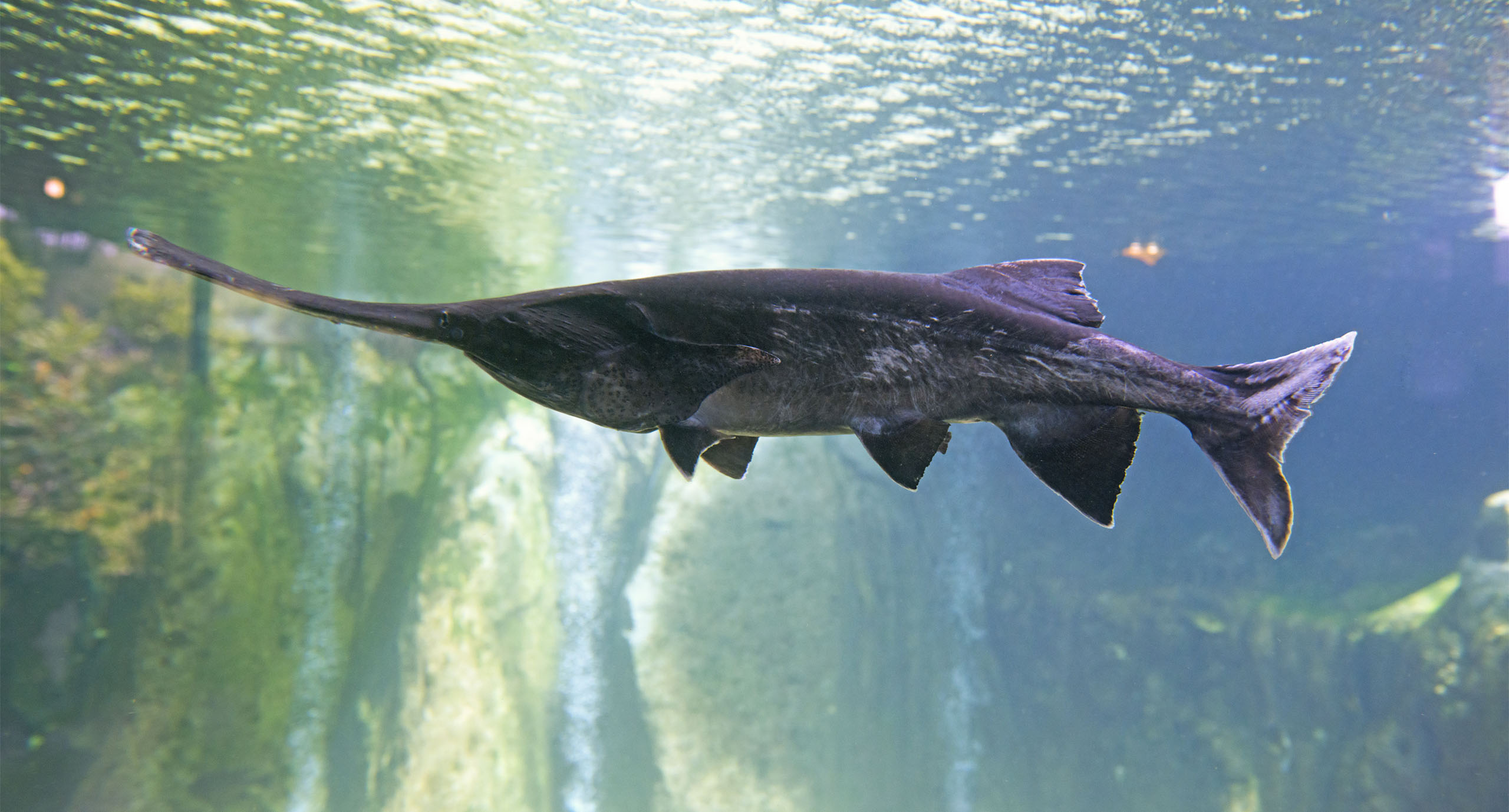 Animal Spotlight: Paddlefish
Not a paddle…it's a rostrum! Paddlefish have developed an enlarged rostrum that extends on the front of their heads. Covered with electroreceptors, the rostrum helps them navigate the surrounding environment and helps them locate food. It's like underwater radar! This species is a filter feeder that swim at their food with mouths wide open to catch small prey in their gill rakers.
Fun Fact: The American paddlefish (aka the Mississippi River paddlefish) is one of just two paddlefish species found on Earth!
Coral Reef
With over 500,000 gallons of water, the Coral Reef is the Aquarium's largest habitat. As you wander your way through the habitat, you'll catch sights of sand tiger sharks, sea turtles, giant Atlantic stingrays and hundreds of reef dwelling fish. This habitat will have you gazing upward in awe. With so much to see and explore, you'll want to spend hours in this relaxing panoramic window.
Animal Spotlight: Green Moray Eel
Green moray eels are often found occupying cracks in rocks and coral reefs. This species of eel gets their green coloration from a special mucous that covers its body. They have a specialized way of breathing by opening and closing their mouths, effectively moving water over their gills.
Fun Fact: These eels have a symbiotic relationship with fish like neon gobies, who effectively clean dead skin and leftover food particles off them. Some of these fish will even climb into the eel's mouth for better cleaning abilities.
Reef Secrets
Your fascination will grow as you discover the variety of species in our Reef Secrets Gallery. Filled with a variety of seahorse and pipehorse species – from pot-bellied to dwarf – you'll want to get up close to these amazing habitats. Learn how seahorses reproduce, eat and survive, and how these animals have inspired millions of years of folklore and fairytales.
Animal Spotlight: Pot-Bellied Seahorse
Found in the waters off Southeast Australia, the pot-bellied seahorse is the largest seahorse species! This large seahorse can be identified by its large brooding pouch, which is larger on males than females. Males carry the female's eggs in the brooding pouch until they hatch in about four weeks. During mating season, males will puff out their brooding pouches to a larger size to attract a potential mate. Seahorses have no true stomach; they suck small shrimp into their mouths using their straw-like mouths and quickly digest food through their bodies.
Fun Fact: Due to the nature of their digestion, the Aquarium feeds seahorses three times a day, the most of any animal at the Aquarium!
Waves of Wonder
Take a trip through the Waves of Wonder habitats to experience a diverse variety of colorful species. Enjoy the sight of oscillating and undulating jellies, clownfish, and anemones. There's even a great Pacific octopus. This gallery also features the Heart of the Sea, home to many Florida favorites like a loggerhead sea turtle, hogfish, spotted eagle rays and bonnethead sharks.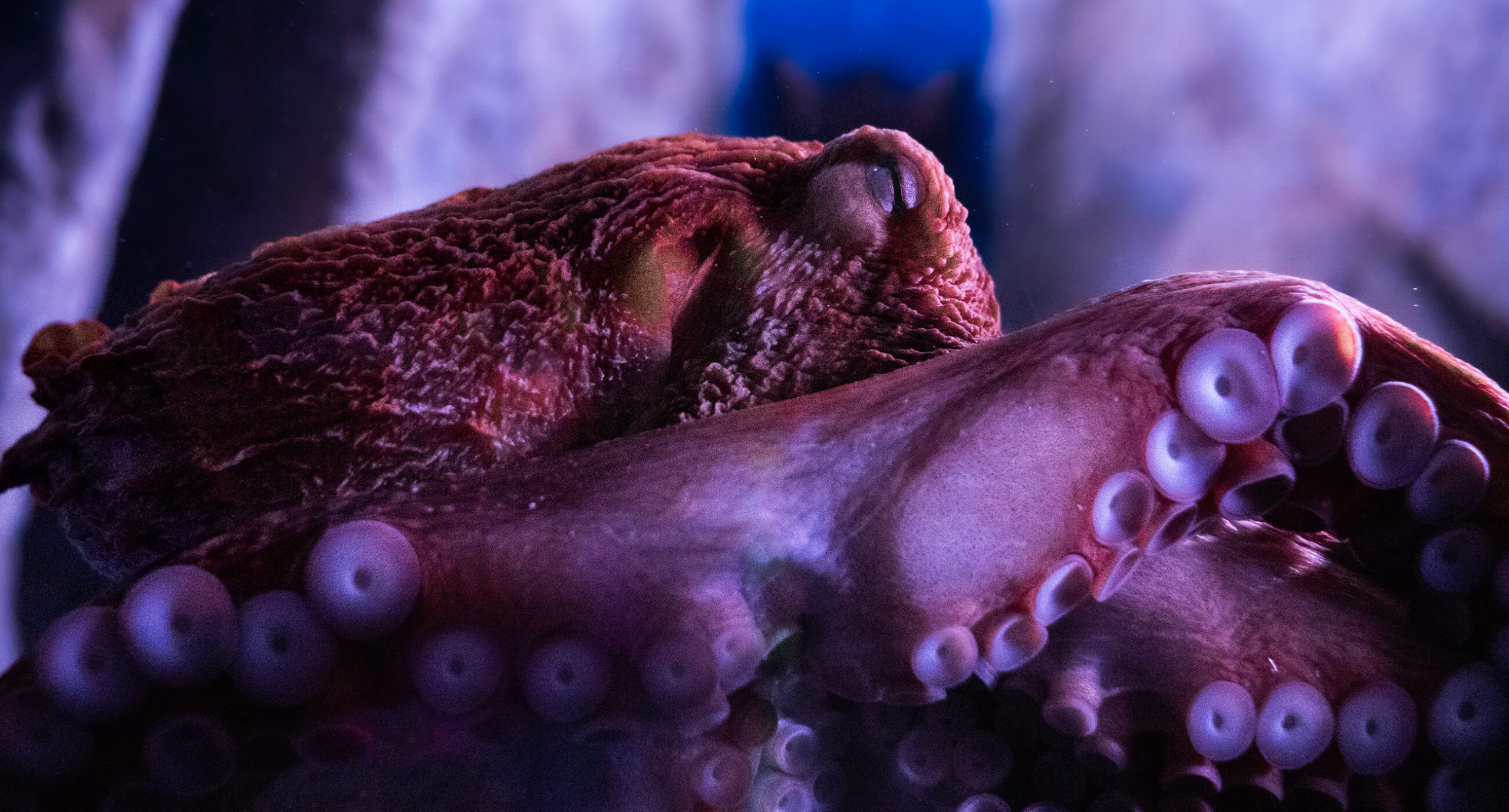 Animal Spotlight: Giant Pacific Octopus (GPO)
The giant Pacific octopus is big on size, intelligence and curiosity. The largest recorded GPO weighed in at 600 pounds! The GPO is a highly intelligent species of octopus, observed to be able to solve puzzles and open jars, they are also believed to mimic other octopus. This species of octopus is an expert at camouflage, shifting its color changing cells called chromatophores, to blend in better with its environment.
Fun Fact: A group of octopuses is called a consortium, but in reality, it is rare to see octopus interact as they are solitary animals.
Moon Bay
The Aquarium's moon jelly touch habitat, the only one of its kind in the Southeast, is sure to wow kids and adults alike. The star of this touch habitat, the moon jelly, is named from their translucent moon-like circular bells and have lived in our oceans for more than 500 million years. Come see these beautiful animals up-close, as they drift gracefully through the water, bodies illuminated by the changing-colored lights. Learn from Aquarium educators about their importance in the ecosystem and discover why moon jellies aren't 'jellyfish', they aren't fish at all!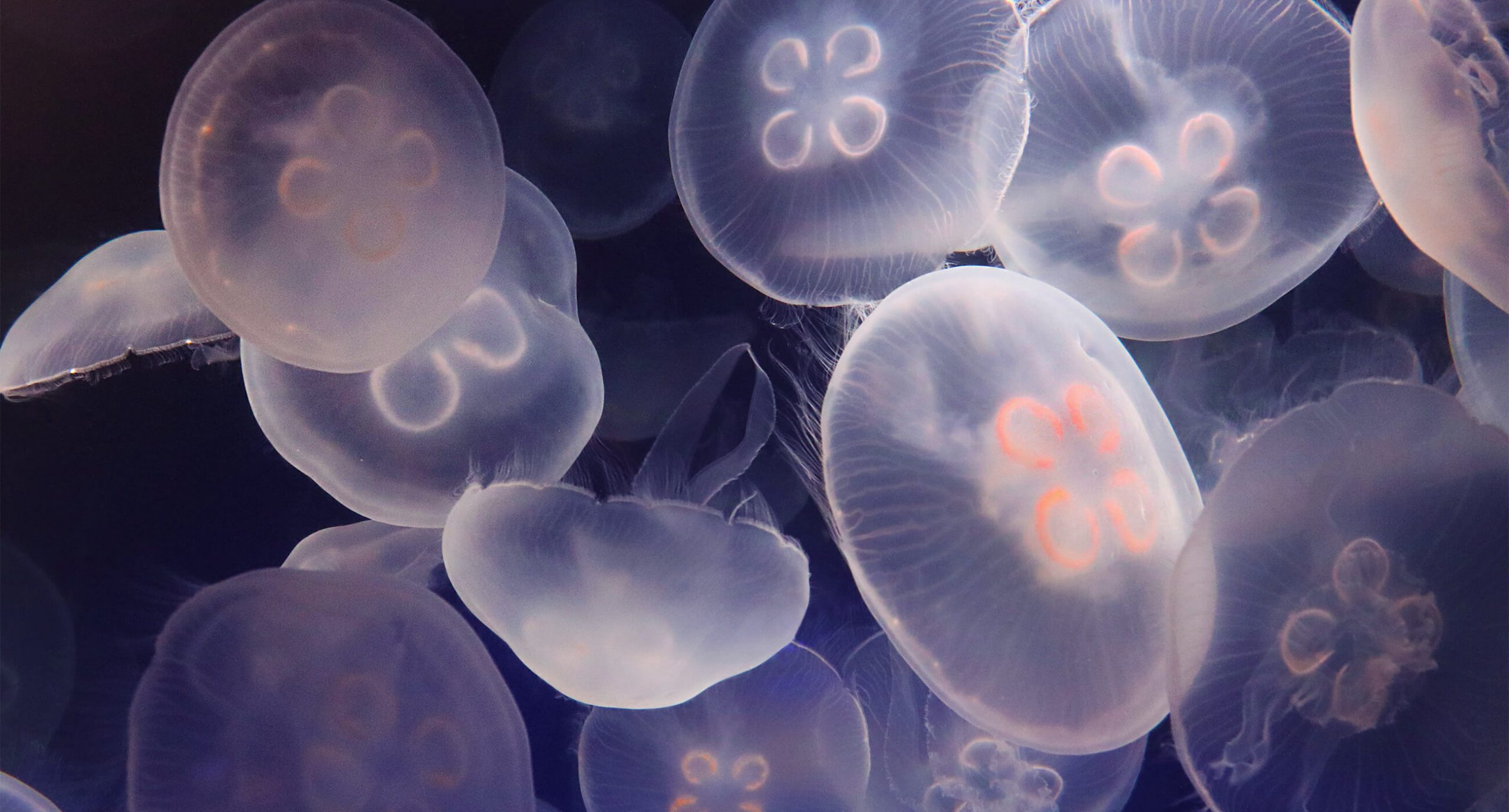 Animal Spotlight: Moon Jelly
Welcome to the world of the weird and wonderful invertebrate – the moon jelly. These short-tentacled animals have no eyes or brain, but do have four stomachs that they use to digest small food items like phytoplankton.
Fun Fact: While these jellies do have stinging cells in their tentacles, their sting is mostly undetectable by humans.