In 2016, The Florida Aquarium's animal care team took in Banner, a threatened green sea turtle. After four years of rehabilitation and care, Banner has successfully made the 600-mile trek up the Gulf coast to his new home at Mississippi Aquarium in Gulfport, MS. In coordination with the Florida Fish and Wildlife Conservation Commission (FWC), Banner was found stranded in Brevard County, after suffering a serious boat strike injury. The Florida Aquarium's team of animal care and veterinarians spent several months nursing the turtle back to good health and provided him with expectational care; however, after a rigorous evaluation, FWC determined Banner non-releasable due to the severity of his injuries. Mississippi Aquarium has now received Banner and will provide him with the critical care and support he requires to live a safe and healthy life.
"From the first day Banner arrived, he connected with our staff and our guests, and his story of tragedy to triumph is one we too often have to tell," said Rachel Thomas, sea turtle biologist The Florida Aquarium, who has cared for Banner for the past year. "The Florida Aquarium is dedicated to saving wildlife, especially endangered sea turtles like Banner, and while we are sad to see him go, we are proud to know we were able to give Banner a second chance at life and are excited to see him thrive at his new aquarium home."
In 2019, The Florida Aquarium opened its $4M Sea Turtle Rehabilitation Center and continues to work closely with FWC on saving sea turtles from Florida waters up through the Northeastern seaboard. The Florida Fish and Wildlife Conservation Commission manages all sea turtle rescues, permits, returns to the wild and placements in coordination with essential partners like The Florida Aquarium and Mississippi Aquarium.
"This turtle's story exemplifies the wide and diverse network of partners critical to conserving these amazing animals. Everyone came together – from members of the public who reported the injured turtle, to volunteers who recovered and transported him, to the expert veterinary staff at the Florida Aquarium who provided treatment. While this turtle's story may not end with a return to the wild, Mississippi Aquarium's commitment to provide a home for him will allow him to serve as an ambassador for sea turtle conservation," said FWC sea turtle biologist, Meghan Koperski.
Banner now resides in a 400,000-gallon habitat featuring a sand tiger shark, cownose rays, a moray eel, pufferfish and more. The Aquarium, which is set to open on August 29.
"We are excited to work with our partner, The Florida Aquarium to give animals, like Banner, a home. Mississippi is considered a critical habitat for the endangered sea turtles, and our scientists are already out in the field studying the species to make sure they have what they need for their long term survival. We look forward to Banner helping educate our community about the importance of protecting their habitats," said Dr. Holley Muraco, Director of Research.
All care and turtle rehabilitation by The Florida Aquarium is done with the approval of the U.S. Fish and Wildlife Service and the Florida Fish and Wildlife Conservation Commission (FWC) under conditions not harmful to marine turtles and authorized under conservation activities pursuant to FWC MTP-19-179.
About The Florida Aquarium
The Florida Aquarium actively participates in and promotes stewardship of the natural environment as part of our mission of conservation. As a 501(c)(3) not-for-profit organization, The Florida Aquarium provides an opportunity to see over 8,000 aquatic and terrestrial animals, explore complex ecosystems, look for wild dolphins in Tampa Bay, play at the Splash Pad and more! Ranked #2 Aquarium in North America in a recent USA TODAY'S 10Best Readers' Choice Awards, the aquarium is more than a must-see attraction, The Florida Aquarium is working to protect and restore our blue planet on many conservation fronts, including research and rescue efforts that help restore Florida's sea turtle and coral populations and to ensure that sharks continue to swim our seas. In August of 2019, The Florida Aquarium, in partnership with Project Coral, became the first to successfully spawn critically endangered pillar coral in a laboratory. To learn more, follow us on social media at @floridaaquarium and visit www.flaquarium.org.
About Mississippi Aquarium
Mississippi Aquarium, a nonprofit 501(c)(3) organization, is a premier institution delivering an awe-inspiring experience that supports animal research and conservation. Mississippi Aquarium is committed to animal welfare and the majesty of the gulf and beyond. The Aquarium sits on 5.8-acres and contains over 80,000 square feet of indoor and outdoor exhibits connected by landscaped walkways with plants that represent all the physiographic regions of Mississippi. The Aquarium is set to open on August 29, in downtown Gulfport. For more visit www.msaquarium.org.
About The Florida Fish and Wildlife Conservation Commission
The Florida Fish and Wildlife Conservation Commission (FWC) works to manage fish and wildlife resources for their long-term well-being and the benefit of people. Biologists, law enforcement officers and other staff work together to protect and manage the state's more than 575 species of wildlife, 200 species of freshwater fish and 500 species of saltwater fish. The FWC uses scientific data to drive management decisions, balancing the needs of these fish and wildlife species, and the habitats that support them, with the needs of Florida's growing population.
Learn more about The Florida Aquarium at: www.flaquarium.org.
Learn more about Mississippi Aquarium at: www.msaquarium.org.
Learn more about Florida Fish and Wildlife Conservation Commission at: www.myfwc.com.
---
Contact The Florida Aquarium communications@flaquarium.org
More
to Sea
Florida Aquarium Rallies for Endangered Sea T...
It was a record-setting event for The Florida Aquarium when the team of animal care professionals admitted 17 sea turtles to the Sea Turtle Rehabilitation Center at the Center for Conservation campus ...
Read More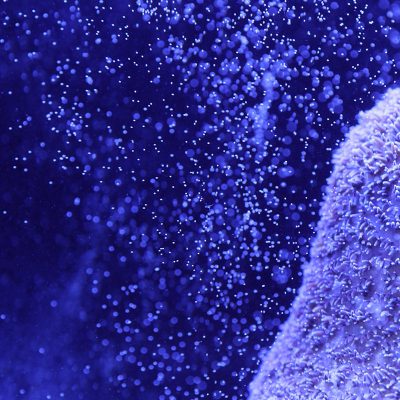 The Florida Aquarium Successfully Spawns Thre...
For the second year in a row, scientists at The Florida Aquarium in Apollo Beach have successfully spawned threatened Atlantic pillar coral (Dendrogyra cylindrus) though lab-induced techniques. The sc...
Read More